Do you ever get overwhelmed by work and life to the point that even your hobbies seem like too much work?  That's the reason I haven't been posting much.  It's been a crazy few months, but I feel like I'm climbing out of the doldrums valley – here I am again and I have a few recipes in store for today and the next few days.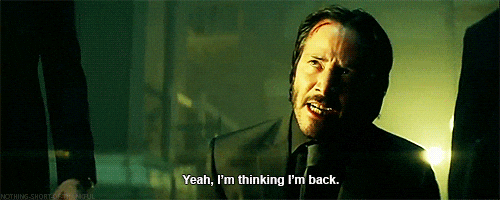 Let's get back into the swing of it with something easy I made a few weeks ago and have been waiting to get to peak deliciousness: spicy homemade pickles.  I'm not going to evangelize to you like some kind of blithe suburban hipster about the joys of pickling, but it takes minimal effort and yields tasty results.  Better yet, pickles go great in Bloody Marys – a nice treat when you've been working hard.
Recipe for these little guys is below, and was inspired by this one at Cooking Divine.  The original called for sugar in the pickling liquid, and though I made it that way it turned out too sweet for my taste (I like my pickles briny, like my oysters) and I took the sugar entirely out of the below.  Also, if you haven't ever tried pickled tomatoes, yet, also be sure to check out my pickled cherry tomatoes recipe.
Ingredients
2 cucumbers (halved, quartered, or cut into ⅛" slices)
½ cup white wine vinegar
4 cups water
1 tablespoon salt
5 fresh dill sprigs (optional)
4 Habanero chili peppers (sliced)
½ teaspoon red pepper flakes
Directions
Halve, quarter, or slice the cucumbers depending upon the type of pickles you prefer.
Carefully slice and de-seed the habanero peppers – if you're like me and you don't have gloves, put the hand that you're using to handle the peppers inside a plastic bag and use that as a glove.  Believe me, you don't want to scratch your eye two hours after making these and still double over in pain!
Place the sliced habanero peppers and the sliced cucumbers into a mason or pickling jar (I used two old pickle jars).
Combine the water, salt, and vinegar in a bowl and mix until the salt dissolves.
Pour the pickling juice into the jar(s).
Add the rest of the ingredients and seal jar(s).
Place in refrigerator at least overnight, then enjoy!  The flavor will get more intense the longer you let the cucumbers pickle.  Pro-tip:  once they reach the level of spiciness you enjoy, you can take out the habaneros to keep the pickles from getting any spicier.  Nom nom nom!
Did you like this recipe?  Like Aching for a Baking on Facebook to get others like it in your news feed!